After measuring, remeasuring, and double checking the distance from my bathroom door to my bed, I decided on a pair of night stands manufactured by Pulaski Furniture. They are part of the Modern Harmony collection by Pulaski or on Wayfair, they are advertised as the Fletcher Nightstand by Brayden Studio.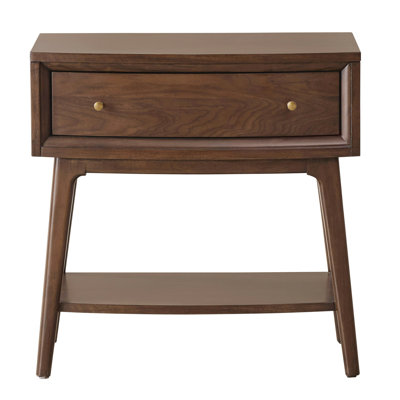 To begin, I did not pay the $432.99 asking price on Wayfair. In fact, I rolled the dice and went with a seller on Ebay. I only paid $206.88 for each one. Total, both of my night stands cost less than one on Wayfair. Here is a link to the page I purchased mine from. They arrived much quicker than expected and I was super surprised at how well they were packed.
The instructions are very vague, which is the only downside to these night stands. Two legs are labeled with an "F" and two are labeled with a "B" to identify the position in accordance with the drawer; however they do not tell you left side or right. It was a trial by error for me. Just make sure the shelf on the bottom fits in snug and the legs are flush the  drawer part. In total, it was a total of 8 bolts and their corresponding nuts and washers and 4 screws. That was it. Each night stand is suppose to come with a mini wrench (think IKEA) however only one of mine came with it. I used my own wrench and a phillips screwdriver. I think I had both together within 30 minutes.
These night stands are incredibly sturdy. Heavy too. Wayfair lists them as being 50.6 pounds and that seems just about right. So you will need help dragging them inside the house. The pulls for the drawer are a burnished brass, not as shiny as in the photo. The gliders for the drawer are metal, move smoothly, and are not self closing. The inside of the drawers have a red "velvet" liner which is removable. I felt the drawers offered more than enough storage space. On one website, I read the night stands had English dovetail joints, but I really did not see that.
The shelf and the front of the unit have a bowed/ curve look. So it's not a perfect rectangle. The color is a very nice walnut effect that is darker than most reproduction furniture. The description on the Wayfair page reads "…features an industrial style inspiration and unique charcoal finish." This entire statement is wrong. There is nothing charcoal about these night stands. They are definitely mid century and not industrial. Most of the night stand is wood and the top might be manufactured wood, but the quality is so nice, you can not even tell.
Overall, I am very impressed with these night stands. If you are looking for a mid century inspired night stand that is more masculine and nicer looking than the items you will find at West Elm and the likes, I suggest this night stand. It's larger than most mid century inspired night stands so you will want a taller headboard for sure.