Hello everyone- today marks an exciting day in the Cordas household.  We have successfully installed our first kitchen faucet!  After much shopping, deliberating and name-calling of the previous faucet, we decided now was as good as time as ever.  Of course there was a budget.  There were also certain requirements.  Under $200 for something stainless, spot-proof, 4-hole compatible and not too tall/ hooked.  Also, I wanted to be able to see it before I made the purchase.  In the end, we ended up purchasing the American Standard Olvera from Lowe's. I have written a review for the product so you can catch it there whenever it is available.  Overall, it wasn't that bad.  The most difficult part? Getting the old faucet off.  Now, our kitchen is almost hip. 
Tomorrow is the dining room chandelier installation.  As mentioned on a previous post I had made an awesome purchase from the Pottery Barn outlet and tomorrow I plan to enjoy the rest of my spoils.  I also plan to check off one or two more items from the Summer 2012 Project List.  I am thinking the memo board and the window blah blahs.  By blah blahs, I haven't figured out what I am doing yet.  I am pretty set on cornices of some king because I have large pub table in the area of these two windows and curtains will not work.
Maybe something with nailheads, I have spare nailheads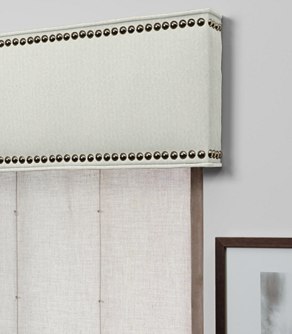 theshadestore.com
 Maybe something with more texture, I love texture.
inhabit.com
 Or maybe something architectural, something a little romantic.
clocktowertenants.com
This weekend I am going to get this figured out in between Spanish class breaks.  Till next time- or should I say hasta luego!